BookMyShow is India's leading e-commerce platform for movie and event tickets and one of the most loved brands and gained a lot more value after the revamp in 2015.
When the product started to look at different expansion possibilities; one direction that we took was to experiment having a chat feature and banking on a increasing need to be connected socially. The first feature called Plan-it was introduced that was intended for friends to share movies, discuss showtimes and book their tickets - all without leaving the app. The primary goal of this feature was to engage.
Plan-it was released in early 2016 with MVP level of functionality and kept growing with incremental features. What started off as a basic chat allowing users to share movies from just the keyboard in the chatting interface, eventually was stitched together seamlessly in the rest of the pages of the product.
This of course came with the challenge of hampering the user's existing flow. Another hurdle was introducing a mandatory sign up which lost us some users but added another 1 Million sign ups from which other products like BMS's Wallet also benefitted.
All-in-all, working with this product has been an adventurous ride with all of it's complex use cases but that only proved to add in a lot of valuable insights for the BookMyShow as a product and the team.
Here are some snippets:
The most successful login page that could be introduced after some healthy number of users to be able to show some real contacts of the user and pleasantly surprise them. Also introduce a bit of FOMO (fear of missing out) that would work in our favour.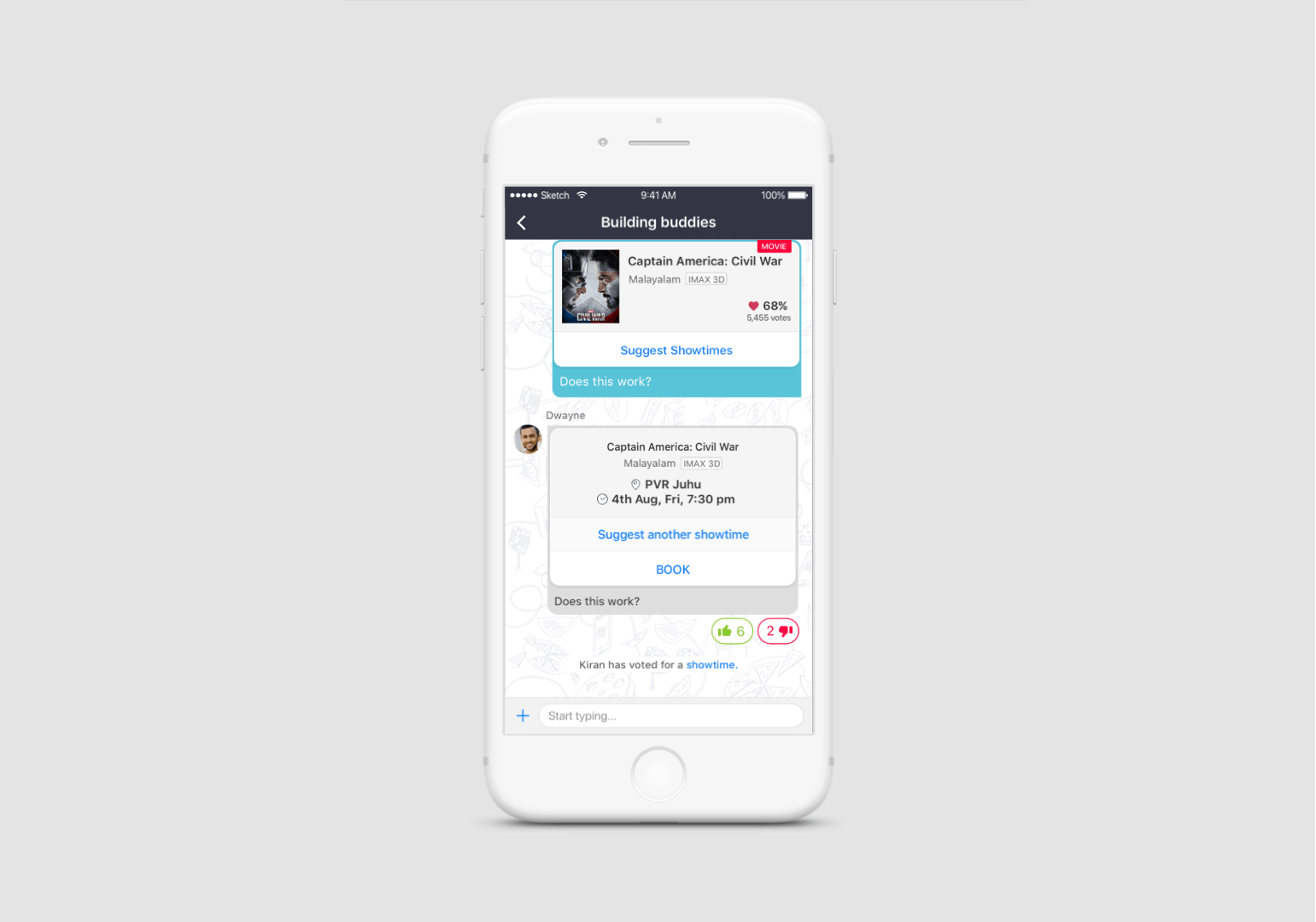 Later we could leverage the profile pictures to add in voting feature which reduced the need to send multiple messages also added a visual treat to the interface.
During the product cycle, Whatsapp had taken over the market and was experimenting with businesses as well. Here is a concept that we thought would work really well if only it was technically possible. Maybe in the future...
And it won't stop there...
Personalising this space with relevant offers is will be a winner.
It could also host engaging Bollywood content like snapchat does.